Hidden away in the Cotswolds near Cirencester you will find a herd of reindeer. Playing in their paddocks, snoozing between meals in their barns, all having their every need catered for by people for whom the welfare and happiness of these animals  is a passion. In recent years we have created bespoke tours of our herd for groups by arrangement at any time of year, and we now open our gates during the Christmas Season to let the public share our joy at meeting these wonderful creatures. We also have two luxurious lodges that can be rented for short breaks. Find more information and booking details for all this and more right here.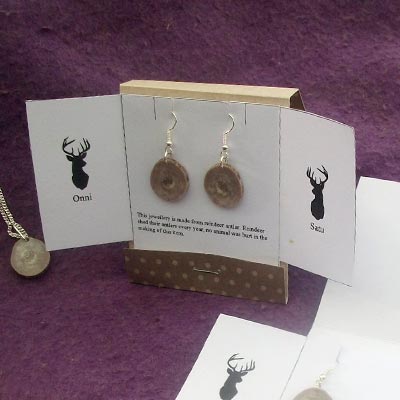 Our Reindeer Shop

Reindeer products
We sell many unique  handmade local festive gifts and products, including items created from our very own reindeer's antlers which are naturally shed by our herd every year.
Read more

Christmas trees
Having grown and sold Christmas trees for over 40 years, we have built a strong reputation for excellent tree quality and size range.
Our trees are pre- ordered and can often be delivered and collected for upcycling by arrangement.
Read more