Book to visit Reindeer
From: £9.00 per person to visit our Reindeer
**Visiting our Reindeer is included in all Santa visit bookings**
Book to visit our reindeer.
All Bookings for the Christmas Event 2022 open on 1st September. Not long now!
Visiting Times
We will be opening our gates from 19th November until 31st December for the public to come and visit our reindeer herd and Christmas shop.
Opening times:
Thursday – Saturday 10:00 am – 5 pm.
Sundays closing at 4 pm.
Closed Monday-Wednesday, with some exceptions, as listed below.
Special Late Night Opening until 8 pm Saturday 3rd, 10th and 17th of December!
Bookings:
Go to the booking calendar to view and select the best dates and time for your visits.
Please note bookings close on a rolling 24 hour basis.
Please note that although reindeer booking slots are at 30 minute intervals, that is just to ease traffic flow. – You can stay as long as you like!
We are also open on the 19th, 20th, 21st , 22nd, 23rd and 24th of December, and Santa's Grotto will also be open on those days, see the booking calendar to secure your visit now.
We are closed Christmas Day and Boxing Day, but open again after that, although Santa will be away having a well earned rest. See the booking calendar below for availability.
If you make a booking and later wish to cancel, we will not be able to refund, so why not gift your booking to someone whom you know will cherish it as a unique present.
Carer's may enter free when accompanying a group of 6 or more people who are in their care. Proof of status will be required.
Please bring strong and sturdy shoes, boots or wellingtons when visiting our Cotswold Reindeer Herd site in Ampney Crucis.
During your visit
During your visit, we have reindeer treats available in our shop. You can also check out our growing range of Christmas gifts, including our unique handcrafted reindeer antler jewellery from our very own reindeer antlers. You won't find anything like it anywhere!
Booking online to visit our reindeer is not essential and you can pay at the gate if you prefer, however, entry will be subject to crowd levels. * Children under 1 year old enter free, when accompanied by family.
To avoid disappointment we encourage people to book online as we are limiting the number of people who can arrive at one time.
Buy moss to feed our reindeer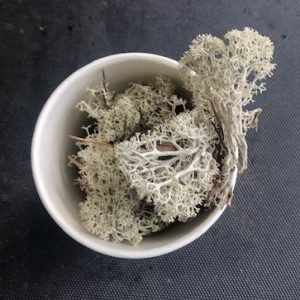 Small Cup of Reindeer Feed
£1.00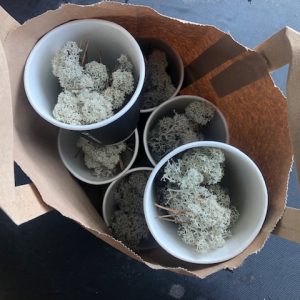 Family Tub of Reindeer Feed
£6.00
Once you have made your booking you will be sent an email with your booking information. Before you arrive, please ensure that you have your confirmation email handy to show to a member of staff upon entry.
All tickets purchased online are valid for one occasion, are non-refundable and cannot be used in conjunction with any other offer.
To find out more about what to expect on your arrival, check our current Visitor Guidance.